Smart Lubrication System
APEX Lubrication
Smart Lubrication System





We are proud to present APEX new product Smart Lubrication System, suitable for all markets with applications in linear guide, Rack and Pinion, Ball screw.
Please contact with us for more details and stock situation.

MAIN FUTURES
CE & ATEX Certification
Support up to 40 Lubrication Positions
Lubrication Frequency Adjustable
Hand-Set and PLC Control Mode
Memory Function
Fill Level Monitoring and Electrical Self-Protection
LUG 400
Performance
Grease up to NLGI 3 (400mL)
Max. 4 outlets, Tube connector
Up to 16 Lubrication positions
LUG – 411 / 412 / 422 / 423 / 424
LUG 2000
Performance
Oil Lubricant (2000mL)
Max. 10 outlets, In-Line connector
Up to 40 Lubrication positions
LUG – 2102 / 2204 / 2306 / 2408 / 2510
New Launch ! Guideway Rack and Roller Bearing
The linear guideway rack can reduce parts space, deduct backlash, save assembling time and cost.
APEX PD Serie
ISO Flange Output PD Serie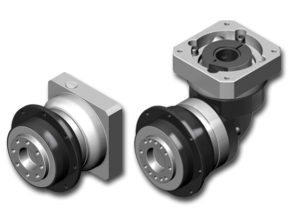 The new PD serie added to our ISO Flange series keep going to be popular in market.
We have already started to provide compact and high precision PD serie from our stock directly.

OVERWIEW:

Nominal Torque:
T2N :10 Nm - 232 Nm
Ratios:
1.Stage :3 / 4 / 5 / 7 / 10
2.Stage: 15 / 16 / 20 / 25 / 30 / 35 / 40 / 50 / 70 / 100
High Precision:
1.Stage :≤ 6 ~ 8 arcmin
2.Stage :≤ 8 ~ 10 arcmin
High Efficiency: 1.Stage:≧ 97% 2.Stage :≧ 94%

PD serie which getting popular in market, was accompanied by a visual show at the booth of one of our world-wide known manufacturer in IFA 2017.
In this special concept, designer had used 28 TV screens, which can be controlled by central software and which can play videos in a normal straight position whilst the screens are rotating.

https://www.apexdyna.nl/en/news/28-dancing-screens-at-the-ifa-exhibition/
APEX Pinions Mounting

APEX Pinion Mounting Options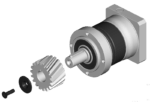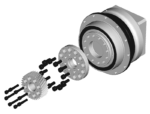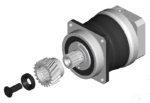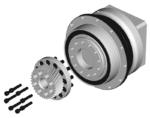 If you have made a choice, it's time for the next step, mounting the pinion. There are obviously different ways to attach the pinion to the gearbox and each has its own advantages and disadvantages. The possibilities are extensive, below we give the pros and cons of each type of transmission in an overview. The last column shows the corresponding gearboxes of Apex Dynamics.

Transmission
Advantage
Disadvantage
Remark
Key
Simple
Cheap
Fast
Backlash by key
Limited torque
Small diameter restricted by key
Mountable on AB / AF / PII
Complete supplied by Apex
Key with chuck
Simple
Fast.
Backlash-free
Small diameter restricted by key
Length of the hub by clamping bush
Mountable on AB / AF / PII
Complete supplied
heat shrinking pinion
Simple
Fast.
Backlash-free
Not interlocking
In case of wear or breakage all replaced
Choice unalterably
Highly accurate applications
Clamp
Simple
Backlash-free
Small diameter limited by clamping bushing
Risk of tilting in case of incorrect mounting
Not interlocking
Mountable on AB / AF / PII
ISO9409 flange
(adjacent, teeth plate)
Normalized
Backlash-free
Compact
Small diameter is limited by flange
Mountable on AD / PD / AH
Complete supplied by Apex
ISO9409 flange
(Offset, welded plate)
Normalized
Backlash-free
Small diameter possible
Larger diameter is limited by the mounting holes
Mountable on AD / PD / AH
Complete supplied
Welded
Backlash-free
Small diameter possible
When worn or broken renew all
Choice unalterably
Customized solution
Spline DIN5480
Fast assembly
Higher torque than with key
Demontage moeilijker
Kleine diameter beperkt door as
Speciale uitgaande as van reductor nodig
Mountable on AF-S3 and KF-S3 series
Complete supplied
ISO9409 Curvic Plate
Simple
Maximum flexibility
Backlash-free
Mountable on AD / PD / AH series
Complete supplied
Posted By APEX Dynamics BV
Thanks for sharing
APEX 'involute' Output Shaft
APEX Involute DIN5480 Çıkış Şaftlı AB/AF Serileri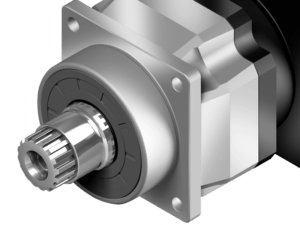 The expansion makes it possible for Apex Dynamics customers to choose from 4 mounting options for these series: clamp, shrink, with key and involute.
Of course, each possibility has its own pros or cons:
Clamp (Interlocking)
The choice of clamping between shaft and hub requires a much larger hub diameter.
Shrink (Interlocking)
It's easy, thanks to the j6 fitting, to shrink a hub on the shaft. But the hub is no longer demountable.
Key (Friction locked)
This connection is usually applied but has three main disadvantages: there is always play (despite the h9 fit), the key often cannot transfer the maximum gearbox torque and the key is sensible to dynamic loads.
Evolute (Friction locked)
The hub remains small but can transmit very high torques with high dynamics, ideal solution for mounting for example a pinion for dynamic applications.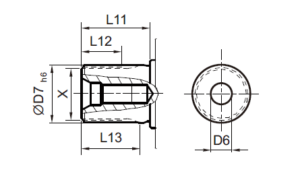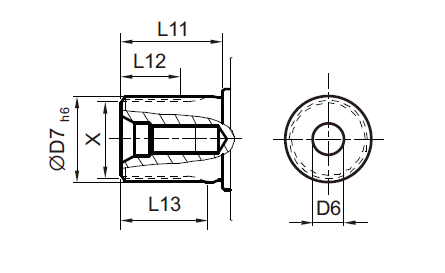 Posted By APEX Dynamics BV
Thanks for sharing.
Chambrelan - Telescopic Slides
Chambrelan - Telescopic Slides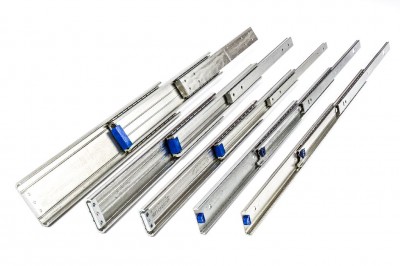 For almost 50 years, Chambrelan has designed, developed and provided thousands of ball bearing slides and guidance rails for industry and for equipment manufacturers who have had to put into practice translatory guidance solutions.

Main prouducts;
Slide Partial extension
Slide Total extension
Slide Over extension




Application Examples:

ATM, vending and self-service equipments
Industrial and Production machinery
Vehicles, rolling stock market etc.


High Precision in Linear & Rotary Drive : NEXEN RPS
Zero backlash with NEXEN - Roller Pinion Systems




The Roller Pinion System (RPS) is based on an innovative pinion consisting of bearing-supported rollers and a unique tooth profile. This unique drive system provides very high positional accuracy, near-zero backlash, virtually no cumulative error, low-velocity ripple, unlimited length, very high speeds, high rigidity, low noise, low maintenance, corrosion resistance, long life, and 99% efficiency. This opens up new machine design possibilities and provides the capability to achieve much higher levels of performance.





RPS design eliminates many limitations of linear systems; noise level, vibration, service life, limited speed, low efficiency, low rigidity etc.

Check out application examples and videos from our "ENDO Mechanic Equipments" product group. You can also reach NEXEN catalogues from here.


APEX Dynamics - Hypoid Right Hand Gearboxes
New ! Hypoid Right Hand Gearboxes KH & KF Series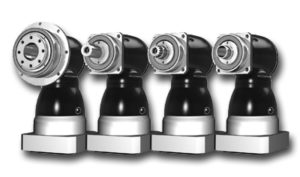 Besides the right-angle planetary and bevel gearboxes this is the 3rd form of right-angle gearboxes we can provide.
These are generally used for high-precision reductions in dynamic applications, for instance with a hollow-shaft design. With Hypoid gears the teeth are rolling over each other so that the output efficiency is high. For a single stage a 3: 1 up to 10: 1 reduction can be achieved. Due to the possible high dynamic input, an integrated motor shaft length compensation is integrated.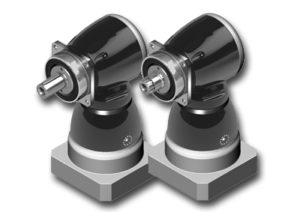 A special feature of this new series of hypoid gearboxes is that the rotation direction of the output shaft is the same as the rotation direction of the servomotor shaft. Most other brands rotate in the opposite direction.
The new K-series is available in five versions:
| | | |
| --- | --- | --- |
| KH | : | through hollow shaft with flange ISO9409 |
| KF-S1 | : | single output smooth shaft |
| KF-S2 | : | single output shaft with key |
| KF-S3 | : | single output spline shaft according to ISO 5480 |
| KF-S4 | : | double output hollow shaft with shrink disc |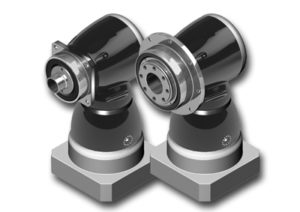 The advantage of the spline output shaft is much torque can be transferred to a
small diameter. For example: you can use very small pinions in a rack applications.
Each type of gearbox is available in seven sizes, with ratio of 3, 4, 5, 7 and 10. A backlash of <3 arc minutes is default. Because of the over-dimensioned bearings the axial and radial forces can be very high.
Typical applications for this type of gear applications are: automotive, robotics, and (silent) drives for attractions in amusement parks and chairlifts.
WMH Herion - Preloaded Double Pinion

High Precision with WMH Preloaded Double Pinion




Our Preloaded Double Pinion allows a backlash- and vibration-free rack drive. Thus, a higher position accuracy can be reached. A flange acc. to ISO 9409-1 connects the Preloaded Double Pinion with PD or AD serie gearboxes of APEX. The Preloaded Double Pinion is available as either helical or straight teeth type.
APEX Dynamics - PD & PL Serie
Two new series: the PD Serie with output flange (ISO 9409) and the PL Serie with output flange for timing belt applications!

PD and PDR Serie: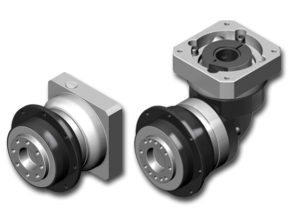 Standardized ISO 9409 output flange
Very compact
Torsional stiff
High radial and axial forces
Applications: for direct mounting of swing or stroke discs, hub drives, pushers, etc.
PL and PLR Serie: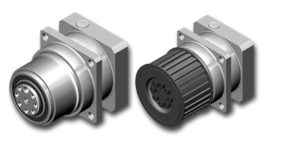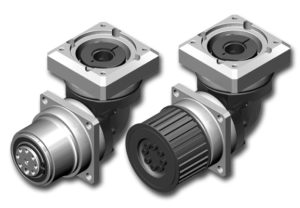 Compact output flange for pulleys
High radial loads possible
Possibilities for a recessed lower support bearing
Ideal for application-specific solutions
Applications: timing belt or tape drives, robotics, AGVs, etc.
The P
D
and PDR
series comes in frame sizes 053, 064, 090 and 110, the PL
and PLR
series comes in frame sizes 070, 090 and 120. Also, we can deliver Pulleys for the PL/PLR in both AT and HTD tooth profile, blackened and nickel finished.

Both models are available in 16 ratios and fit to any servo- or stepper motor. With a backlash of <7 arcminutes this gearbox has the lowest backlash in the market of economy gearboxes.
All gear and pulleys are selectable in our design tool and available immediately.
ESTUN - ETS Series
ESTUN Provides One Servo Drive Unit with Three Servo Motors




With standard mono-block series, end-users could use just one drive unit.
with the new ETS Serie of ESTUN, from 200W to 1KW customer able to use 3 servo motors with just one servo drive unit.